A massage gun is a tool used to give yourself deep and intensive massages. To achieve enough muscle stimulation, you usually need to go to a professional massage therapist, but a massage gun lets you get the same results in your home. We've listed a few reasons you should consider giving it a go.
Click here to read more and to buy Flowgun PRO 2.0!
You can use a massage gun easily at home without the hassle. You can use it to stimulate connective tissue, increase blood circulation, and release trigger points. The massage gun is great to use if you work out a lot as it prevents stiffness in muscles and joints but also helps to make your body more supple. It's easy to use, and you can get better access and pressure in places other massage products don't quite reach.
What benefits of a massage gun?
Effective warm-up

Massage is unbeatable when it comes to kick-starting stiff and tired muscles. If you've done a hard session, do another one the next day. It can feel brutal. Our massage gun can help you warm up faster and get you going. Our Flowgun has five vibration levels you can adjust to suit your needs. If you feel stiff one day, you can start at the lowest level and slowly build up as your muscles feel ready.
Optimal recovery

The massage gun can also help after training. Running it at a low intensity can work well to give your muscles a chance to recover. This stimulates the power and acts as an anti-inflammatory. Studies show that a post-workout massage can reduce soreness!

Improved mobility


Supple muscles mean better movement and mobility. Better mobility means getting more out of your exercises, such as deeper squats, and maximizing your results. A massage gun, and here we're looking at Flowgun in particular, is so powerful that it can get right down into even the most complex, tense muscles and soften them up again.

Cost-effective

When you buy it, a massage gun may seem like a significant investment, but in the long run, your wallet will thank you. You'll probably need to spend less on massage treatments, as the massage gun gives you effective massages. Even better, if you'd like to try Flowgun, it comes with a customer satisfaction guarantee, so if it doesn't hit the spot, you can always get your money back.
So how do you use a massage gun?
When using your massage gun, it's a good idea to start gently, preferably at the lowest level, so you learn how it works and what suits you and your body. It may feel weird at first, but you can increase your strength as your body gets used to it in time. The lowest power is an excellent place to warm up your muscles. It's a good idea to start with the round head and then move on to the others. Read how to use the different heads here.
Work out what feels best for your body, and feel free to put in extra work where you have sore muscles. It should feel good, but it may still hurt a little. A massage gun is also ideal when used in conjunction with exercise. It works well to soften your muscles before your workout, but it's also handy to use afterward for recovery and as a preventative measure against stiff muscles and joints.
What are the benefits of a massage gun?
There are several valuable features of a massage gun:
Healing

Massage is excellent for rehabilitation. It speeds up the healing process but also helps to prevent new injuries. It improves circulation in the muscles so that the areas that are injured heal faster.

Healthy

Massage guns are beneficial because they improve your blood circulation, which makes your muscles and body feel good. They offer many health benefits, such as increased mobility, improved sleep, and a more robust immune system. They can also help with depression and anxiety.

Stress management

A massage gun also works well for managing stress. Most people experience anxiety now and then. And a massage gun can be handy for dealing with stress as massage releases endorphins that make you feel better.

Reduced tension

Massage aims to relax the muscles and reduce tension in the body. This leads to shorter recovery time and more flexible and efficient muscles. But a massage gun also strengthens muscles by creating contractions that calm the nervous system.
Are there different massage guns?
Flowlife offers three models of massage guns: Flowgun pro 2.0, Flowgun Go 2.0, and Flowgun Pocket. With three different models, find the one that suits you best. is easy
Flowgun Pro is one of the most ambitious choices by far. No compromise has been made on quality, strength, or features. Its durable motor gives you an intense massage, and its five levels give you the freedom to treat all muscle groups. Flowgun Pro has also won best in the test!
Technical information
Weight: 970 grams
1,400 – 3,200 rpm
103w – 228w
Stroke length: 10 mm
Sound level: 30-60 db
Rated Power: 30W
Lithium-ion Battery: 2,550mAh
Motor: Brushless 103-228W (maximum pressure)
AC/DC Adapter: Input AC 100-240V, 0,8A Max, 50/60Hz – Output: DC 26.0V – 900mA
CE & ROSH
Flowgun Go is an affordable massage gun that stimulates connective tissue, increases blood circulation, and releases trigger points. Like its big brother Flowgun, Flowgun Go has six different nozzles and five different vibration levels. Flowgun Go is not only powerful but also flexible. It is also easy to use and suitable for all levels of ambition. A perfect introduction to the world of massage guns!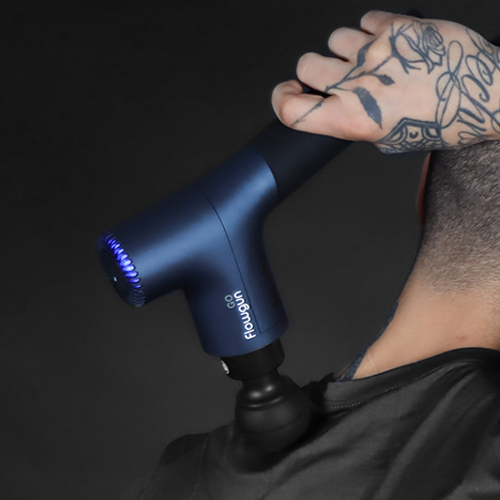 Technical information
Input voltage: 110-240v 50/60Hz

Output: DC 26.0V

Lithium-ion Battery: 2500mAh

Battery time 6h

Charging time: 4h

Weight: 0,98 kg

Stroke length: 10 mm

Decibels: 50-60 DB
Read more about Flowgun. Go here!
Flowgun Pocket is a massage gun that combines powerful massage with a compact and trim design. When you have a massage gun that doesn't weigh a tonne or take up a lot of space, it's easy to massage your muscles wherever you are or wherever you are going. Alowgun Pocket vibrates at 3,200 strokes per minute –at the highest setting. Calling it a powerful session is no exaggeration!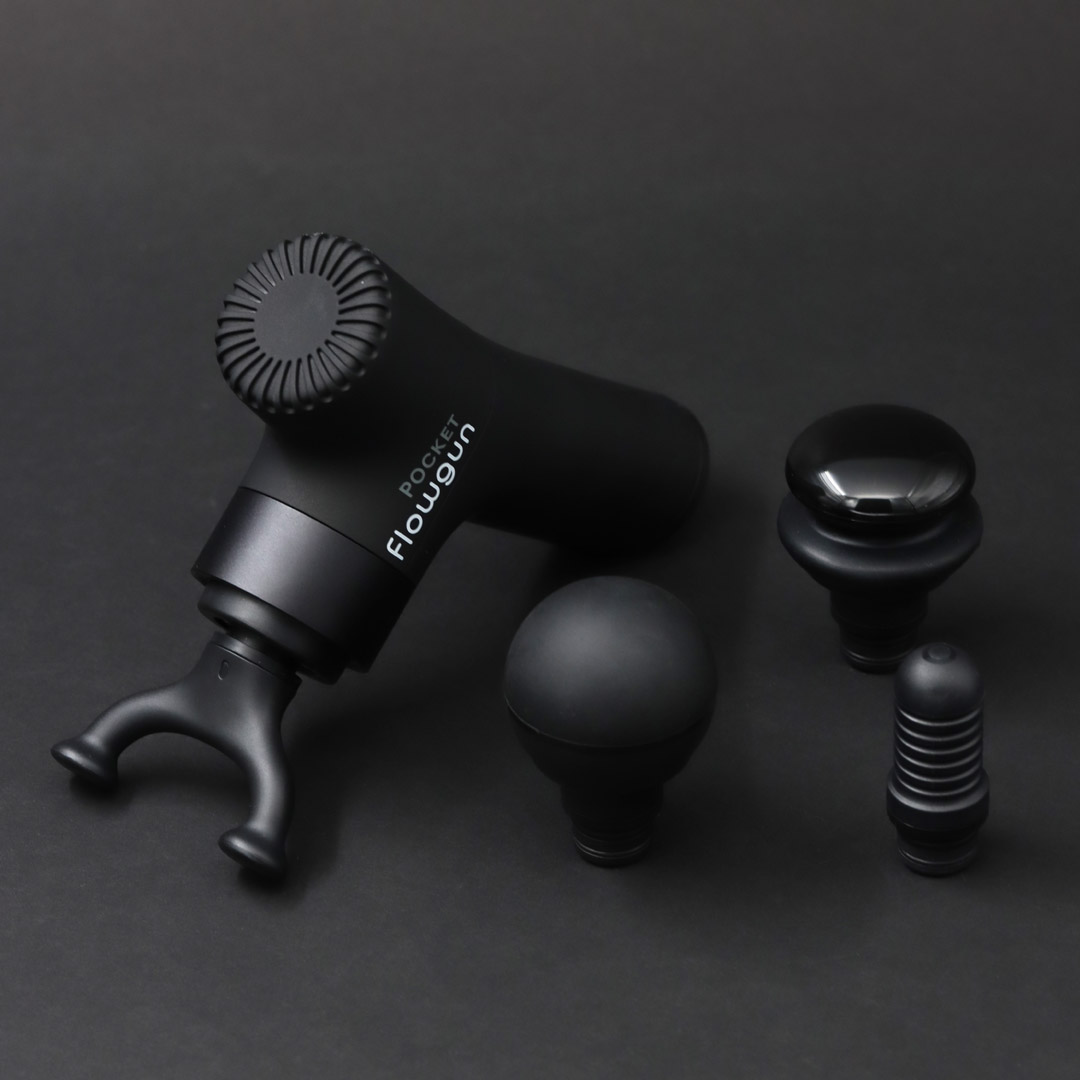 Technical information
2,000-3,200 rpm
Cable: Type C-cable
Adapter: Not over 9V
Input: 100-240V
Output: 5V
Rated Voltage: 5V
Lithium-ion Battery: 1,600mAh
Read more about Flowgun pocket here!
Best in test
Our massage guns have come up best in tests on multiple occasions. Some points that are often highlighted in the tests are:
A quiet and powerful massage gun helps release tension and facilitate recovery.

Frequency up to 3,200 strokes per minute.

Stimulates connective tissue and increases blood circulation in the muscles.

Stylish design and 6-hour battery life.

100-day customer satisfaction guarantee and 2-year product warranty.
Read more about the product tests here!
Which massage gun should you choose?
Your choice of massage gun can be based on various factors. Some of the most common things to think about include whether you have used a massage gun before, whether you have a very active lifestyle,e and the reason you want a massage gun five5 förde
Find more inspiration in our article!